DC-2221
Product use: It is suitable for interior and exterior wall decoration of buildings such as houses, villas, hotels, office buildings, etc. It can also be renovated on old paint, stone and tile surfaces.
Technical parameters: Ingredients: water-based resin, granite powder, pigments, additives.
Ancillary products: Exterior wall environmentally friendly putty, closed primer, solid color primer, varnish finish, self-cleaning finish
Crystone Liquid Granite Texture Stone Paint is a new water-based environmental protection decorative paint for exterior walls after Real Stone Paint and Liquid Granite Paint. The imitation granite effect can be reached 98% sameness with the natural granite by using liquid granite mixed with natural colored sands. Compared with liquid granite paint, it has the texture of natural stone, and also has a strong 3D texture effect. It meets the fashion requirement of "Environment Friendly, Safety and Beauty" for modern architectural decoration. It is a innovative 3D exterior project paint with great market potential.
Product Uses: applicable to high-grade interior and exterior wall decoration, can be used on a variety of cement, wood, glass, plastic, metal coating system, and also suitable for the renovation of old wall in paint, stone and ceramic tile surface treatment.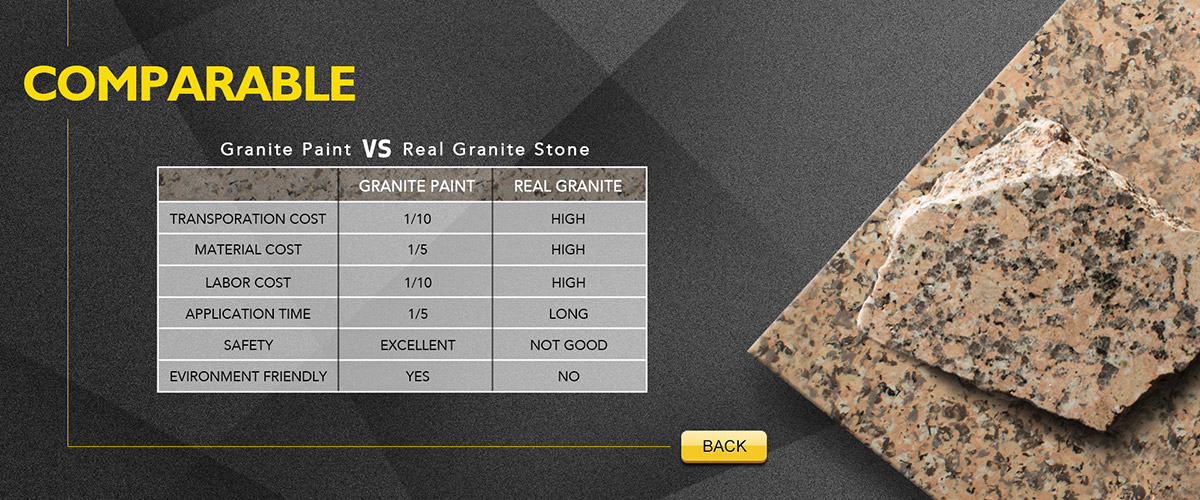 1.Quality: the paint is made of the imported pigment and the resin of super durability.
2.Environment protection: being healthy and no odor, low VOC percentage. There is no pollution against the environment from the application.
3.Updated technology: 3 times of flexibility than the common paint, high performance of anti-dirt, self-cleaning, waterproof, anti-washing, anti-crack and anti-mildew.
4.Low application cost: efficient application, the coating can be made up, which does not influence the final effect.
5.Rich color: many kinds of color are available. What's more, the color can be customized. The sameness between the liquid granite texture paint and the natural granite can be 95%.
6.Dry time: Dry to touch, 2h; dry hard, 24h
7.Tools requested: spary gun, barrel under pressure, pressure gauge
8.Package: 20L, it must be stored in the cool and dry places, stay away from the fire. Valid time is 6 months.
9.Remark: Except the sample board, the special request is welcome.